Need a California
Guard Card?
Join over 10,000 people who trained with Valley Guard and got one in as few as 3-5 days
We Make It Easy
With Online Guard Card Classes
Available Everywhere
Get BSIS-certified classes online in your personal study space. Access them from your desktop, laptop, tablet, or even your smart phone.
Easy To Work Through
Our lesson tracker saves your progress so you can work through the material at your own pace. Study as long as you want. Take the tests when you're ready.
Fail-Proof
Tests are open-book and our system reviews incorrect answers with you so you get the knowledge you need to pass every time.
Here's what others have to say
about the exceptional service and support you can expect from Valley Guard…
"Valley Guard made it easy to get all my guard training in one place. The instructors know their stuff. They always answer all my questions and take the time to make sure I understand what they're showing me and what I need to do next."
"I was able to get my gun permit and requalify all in the same day. Plus, they were able to point out some problems with my shooting technique that I now take to heart. I plan on going back to Valley Guard Training quite a few more times."
"My career requires regular training and firearm quals and I've been coming to Valley Guard for awhile now to take care of it. The people here are friendly and helpful. The experience goes smoothly every time. It's nice to know I can depend on them."
"Security is a realization now and not just some dream I had. With the knowledge that I gained I am more confident about the security field. You really can't go wrong with Valley Guard Training. I'll be coming back for years to come."
"I've worked security for a lot of years, so I've got a routine when it comes to annual training and the like. I trust the guys at Valley Guard Training for that. I don't have to worry about anything with them. I can come in and do what I need to do. They make it simple."
"I like the atmosphere at Valley Guard. I come in a few times during the year for firearm qualifications and refreshers. There's never a hassle and Alan and the guys are ready to help if I need something. What else can I say? They do it right."
Worry-Free Guarantee
Order With Confidence
We believe we offer the best security training on the internet, which is why we give you this worry-free guarantee…
Sign up. Go through a few lessons. If for any reason you're not satisfied (and you haven't completed all the lessons for a class), contact us and we'll refund your money.
No questions asked.
So What Are You Waiting For?
California Guard Card classes. Continuing education. Annual refresher courses. It's all right here.
Click the button below and find out how easy Valley Guard Online makes it to get the guard card training you need… Get Started Now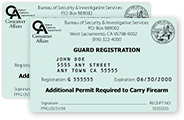 Are you an employer? Need training for multiple guards?
Buy online guard training in bulk and save. Get Details