Online Guard Training Made Easy
Quick and painless. That's the way security guard training classes should work. And that's exactly what we've designed Valley Guard Online to deliver. The friendly, top-notch experience you get at our facility is now just a few clicks away, whether you're on a desktop computer, laptop, tablet, or even your smartphone.
Click a link below to learn more about the features that make it a breeze to get the training you need…
Get Started Now
"I looked at a bunch of places to get my training online and yours is the nicest one out there."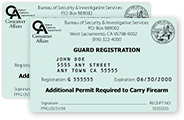 Are you an employer? Need training for multiple guards?
Buy online guard training in bulk and save. Get Details