Online Guard Card Classes
If you don't have your Guard Card yet, you can find out what it takes to get one and get answers to common questions here:
Every class offered by Valley Guard Online is BSIS approved. You can rest assured that you'll get quality courses that meet or exceed the State's requirements for Guard Card training.
The table below outlines the BSIS Guard Card skills training course requirements and how they relate to our course bundles so you can choose the one that's right for you…
BSIS Training Requirements

(Article 9 Skills Training Course For Security Guards)

Valley Guard Online Classes
When to Complete
Hours Needed
California Guard Card
Continuing Education
The Full 40 Bundle
Before being assigned a post
8 hours

yes

no

yes

Within 30 days of guard
card approval
16 hours

no

yes

yes

Within 6 months of guard
card approval
16 hours

no

yes

yes

Total Training
40 Hours

no

no

yes

How to Renew a California Guard Card
(Scroll table right →)
Choose Your Classes…
California Guard Card
$32
8 Hour BSIS Guard Card Training
Continuing Education
$99
32 Hour BSIS Required Training
The Full 40 Bundle
$99
California Guard Card (FREE)

Continuing Education
(Purchased Separately $131) You Save $32
Individual Classes
Need to take a specific course? Mix and match any of our online classes to create your own bundle. Get Details
Pepper Spray Card
Get everything you need to carry pepper spray or mace, whether it's for your job or personal protection. Get Details
CPR/AED/First Aid
Take this American Heart Association (AHA) Heartsaver online class for 4 hours of continuing education. Get Details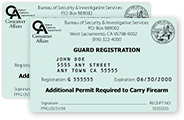 Are you an employer? Need training for multiple guards?
Buy online guard training in bulk and save. Get Details